Best usability testing tools
A good tool in good hands is the best weapon against bad UX. We prepared a list of the 5 best tools currently on the market, so you don't have to spend hours researching the topic.
What is a usability testing tool?
Usability testing can be done remotely with the help of specialized tools. Online usability testing tools offer features that make the remote testing process easier for you as a researcher, or a contributor. They usually help with analyzing the insights, participant recruitment, sharing your findings and storing all the recorded data in one place.
When do you need a usability testing tool?
Testing remotely without a tool can be rather time-consuming and expensive. Even more, when using the unmoderated testing method. Online usability testing tools provide you the ability to track time throughout the study, contain questionnaires and instructions for the tester. 
The whole testing process is done within one tool which makes it easier to control, share and analyze the study. To help you find the perfect usability testing tool for your needs, here's a list of the 5 best usability testing tools on the market. 
5 Best usability testing tools:
UXtweak
UserZoom
Loop 11
Lookback.io
Userlytics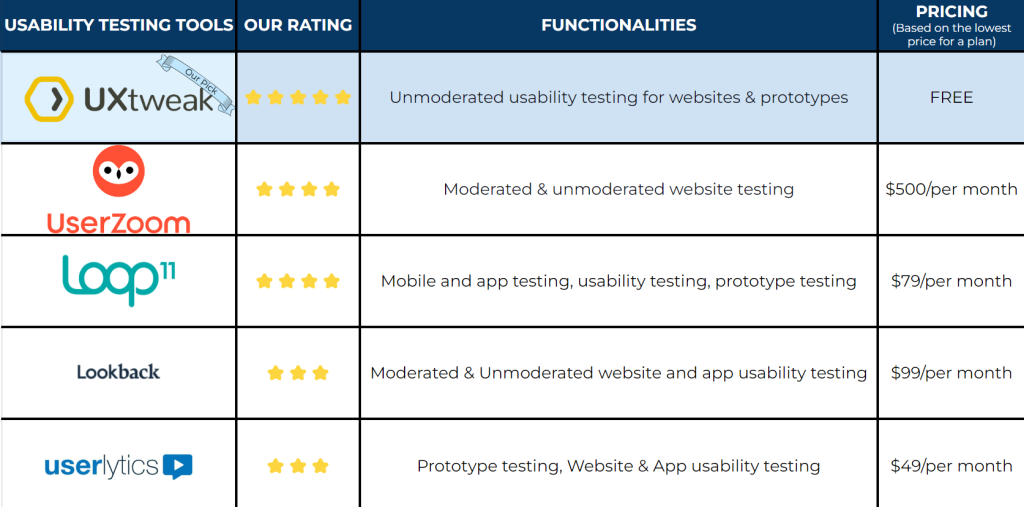 Let's take a closer look at each of them: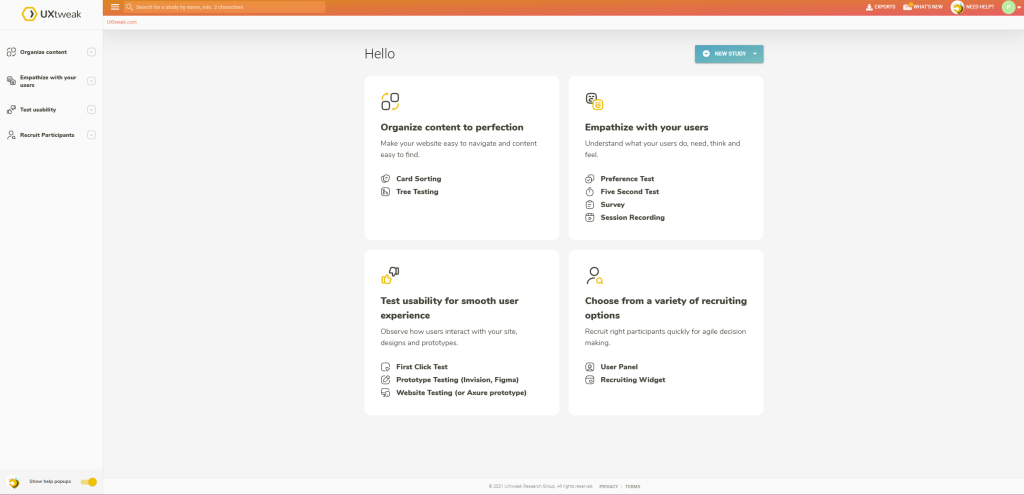 Functionalities: Unmoderated usability testing for websites & prototypes
Pricing: Offers 3 plans, one of which is available for free, lowest price for a paid plan is $99/per user/per month
Recruiting: User panel, recruiting widget, sharing via URL.
Thanks to its numerous functionalities and tools combined into one neat app, UXtweak made the top of our list. Not only is it very versatile, but it is also priced fairly. It provides unmoderated website and prototype testing with advanced analytics and easy-to-share reports. 
Recruiting users to complete your study is also well thought out thanks to its recruiting widget. You can motivate users thanks to easy coupon implementation upon completing the study.
One thing we had some reservations about was the app's UI. It could use an upgrade, but overall great and very useful.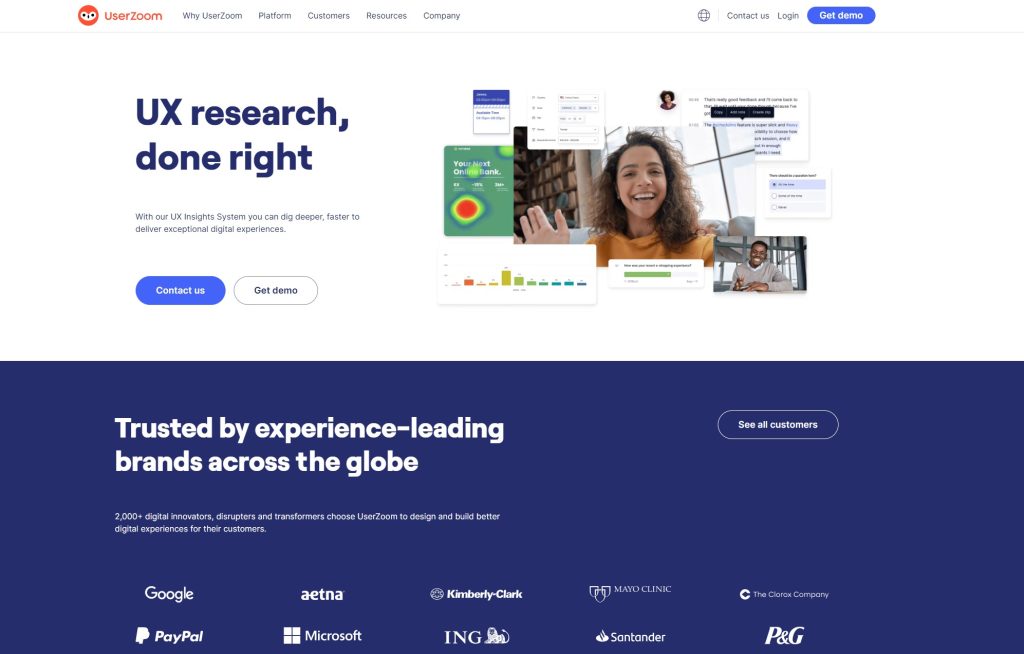 Functionalities: Moderated & unmoderated website testing 
Pricing: Starting price is $6000/per user/per year for UserZoom GO
Recruiting: URL available, web intercepts and QR codes only available on UserZoom
UserZoom comes in two ways – UserZoom GO and standard UserZoom. The biggest setback with UserZoom is its price. UserZoom GO starts at $6 000/per user/per year which is a very big price tag. If you want to use the standard version you will have to send them an email. 
Overall UserZooms' features are good. It provides moderated and unmoderated testing, but unfortunately, prototype testing isn't available.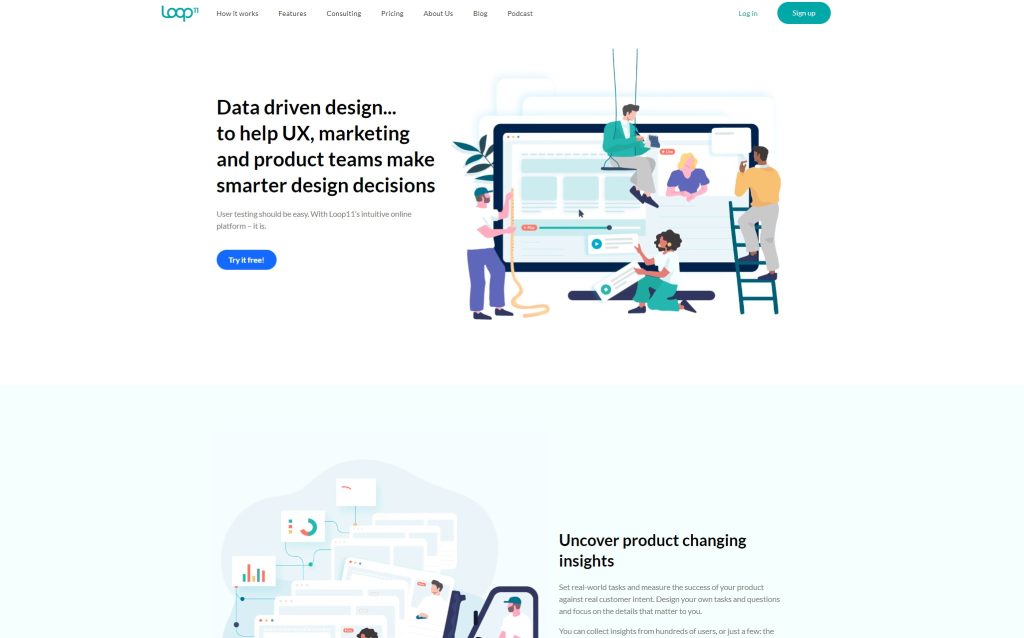 Functionalities: Mobile and app testing, usability testing, prototype testing
Pricing: $199/per month
Recruiting: Bring your own participants
Loop11 is a web-based usability testing platform that offers several UX research possibilities. It includes both moderated and unmoderated tests, as well as benchmarking, A/B testing, and other tools to aid in the evaluation of your users. You can also record audio and video of the tester while completing the study. 
What is unfortunate is the way you change data, questions, questionnaires, and more after the study has been launched. If there was a mixup, or someone made a mistake and you want to correct it, the only thing you can do is delete the test completely.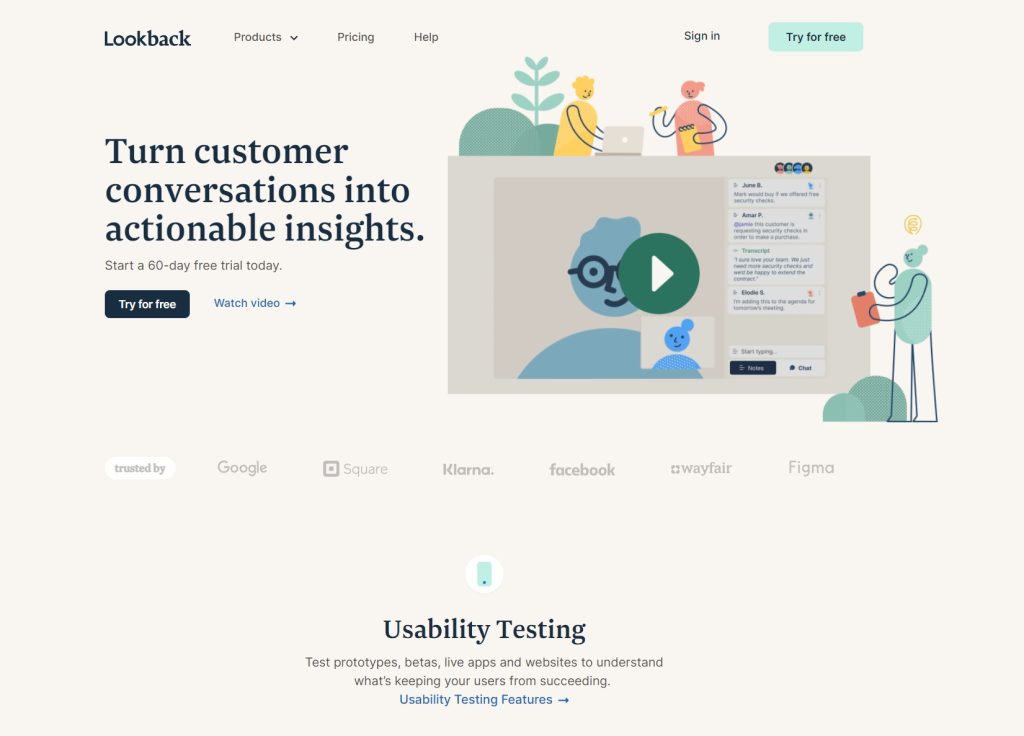 Functionalities: Moderated & Unmoderated website and app usability testing
Pricing: $17/per month/10 studies per year
Recruiting: Bring your own participants
This app is a great way to conduct user testing if you already have a pool of testers and want a lot of flexibility in your user testing process. You are also able to broadcast a study live to your colleagues so they can respond in real-time. 
The downsides are that you can't recruit your testers through this app – you have to get people to test by yourselves. There is also no free version available so that might be a problem. Lookback offers a free trial to test things out. After your trial runs out, their prices start at $17/per month with 10 studies per year available.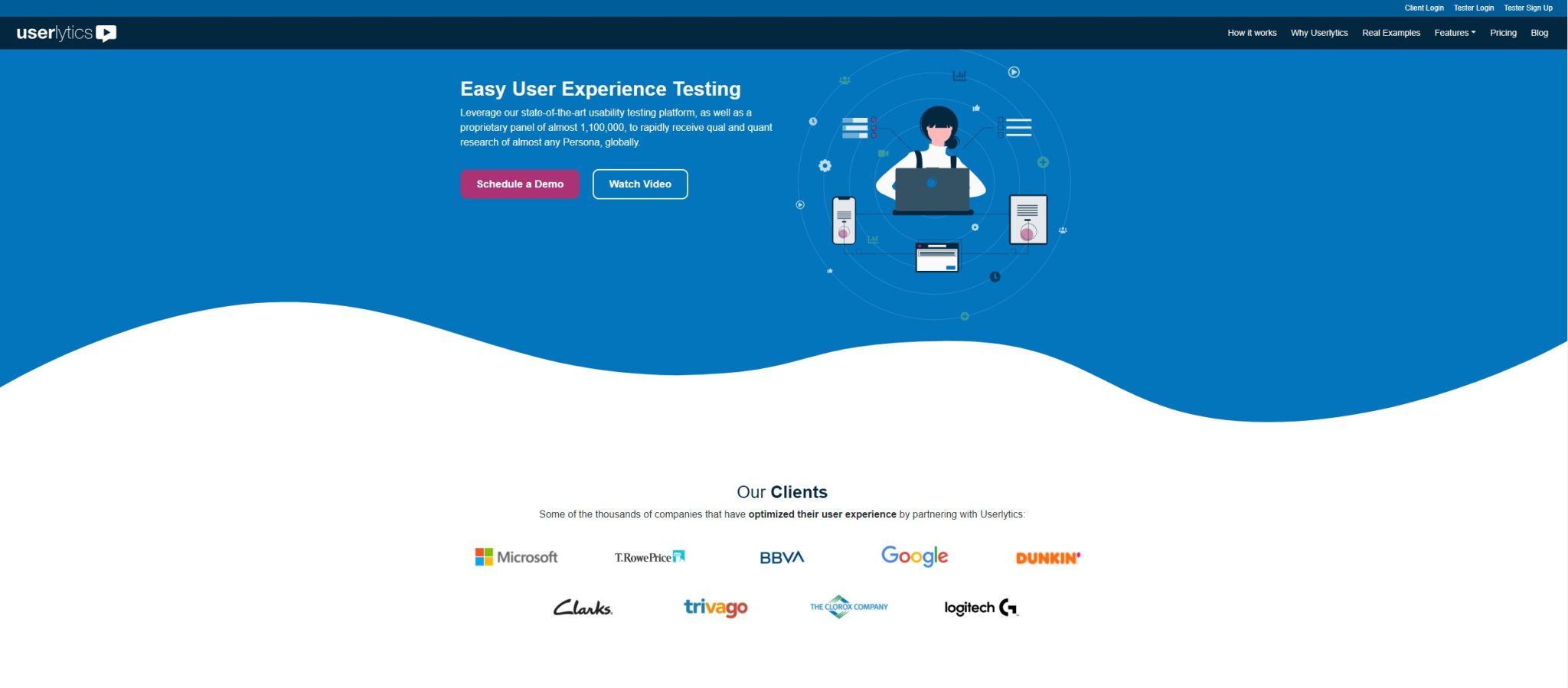 Functionalities: Prototype testing, Website & App usability testing
Pricing: 49€/per user/per participant
Recruiting: Bring your own participants and User panel
It enlists the help of people from all over the world to improve your user experience. It also makes use of both quantitative and qualitative data. You can also share a video presentation of results from your studies with shareholders and colleagues. 
However, some users report that the interface of Userlytics is hard to navigate, and relocating an account can be a bit tricky. 
If you want to learn more we already published some other guides on various UX tools of our own. Many of these web apps offer these tools as a part of their paid package, so why not improve your UX with various methods of testing at once. Take it easy and read about these methods here:
Want to save time & money?
Saving time, money and resources. Try remote usability testing.